Run Nona 5k & Nemours Kids' Run
About this Race
Bring the block party atmosphere and satisfaction of running/ walking the Run Nona 5k directly to your backyard! Even though you'll be doing the 5k on your own route, with the new technology – Real-Time Remote Racing – you can race WITH OTHERS while receiving real-time data.
Every year since 2008 the Central Florida community has come to enjoy a high-energy 5k in the heart of Lake Nona. Runners and walkers look forward to the post-race party and abundance of kids' activities. Due to the ongoing concerns surrounding the COVID-19 pandemic, together with our partners we have made the difficult decision to switch the 2020 Run Nona 5k and the Nemours Kids' Run from in-person events to virtual experiences. 
Event Highlights
• Tech Shirt
• Nemours Kids' Run
• Real-Time Remote Racing through the RTRT app
• Team Competition
• FREE 5k Training Plan >>
• Run Nona 5k Spotify Playlist
• Customized Finisher Certificate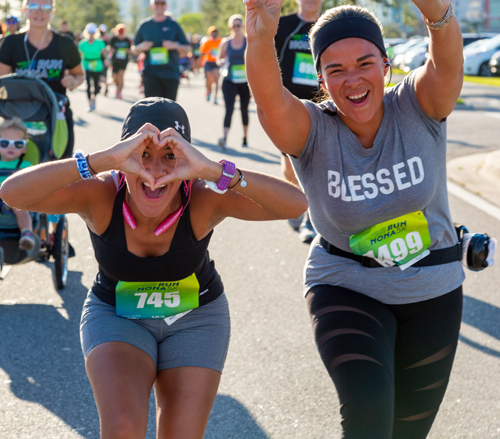 Entry Fees
Processing fees will apply.
Nemours Kids' Run
Includes: printed bib,  event shirt and finisher medal. The Kids' Run is recommended for children 12 and under.
$8 – Through August 29
$11 – August 30 – September 5
5k Virtual Race
Includes: printed bib, event shirt, finisher medal, Real-Time Remote Racing and finisher certificate
$33 – Through August 29
$38 – August 30 – September 5
5k Digital Package
Includes: virtual bib, Real-Time Remote Racing and finisher certificate.
$12