Get Your Groove On for Animal Survivors of Domestic Abuse during the 10th Annual Paws for Peace Walk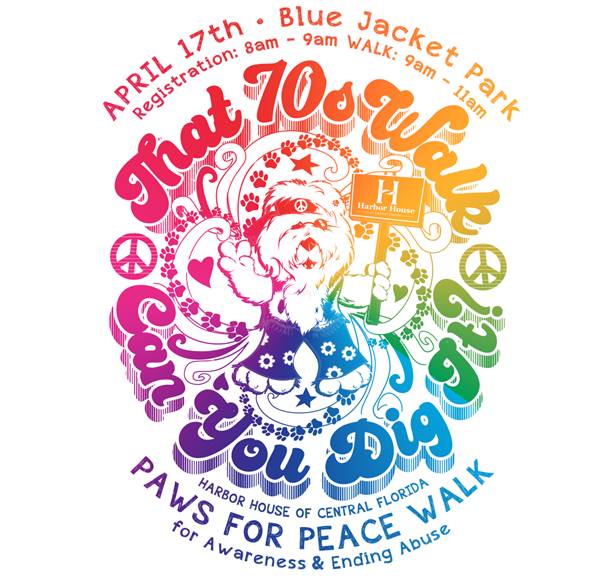 Registration now open for individuals and teams to participate, raising money and awareness of
Harbor House's Paws for Peace Kennel during Prevention of Cruelty to Animals Month
WHO:                Harbor House of Central Florida, 200+ Central Florida residents and their dogs in special Paws for Peace face masks
WHAT:              Harbor House of Central Florida's 10th Annual Paws for Peace Walk

WHEN:              Saturday, April 17, 2021
Registration begins at 8 a.m.; Walk starts at 9 a.m.
WHERE:            Blue Jacket Park, Baldwin Park, 2501 General Rees Ave, Orlando (north corner of General Rees Ave and Lower Park Road). A virtual option is available, too.
REGISTRATION: A $30 donation for virtual walkers and a $35 donation for in-person walkers includes a free t-shirt and doggie bandana. Paws for Peace Walk masks are available for $8. Register at www.harborhousefl.com/paws.
ADDITIONAL INFO: The 10th Annual Paws for Peace Walk is a fun and leisurely stroll for families, friends and their pets. This year's theme is "That 70s Walk, Can You Dig It?" in which 70's-style  clothes for pets and people is encouraged!
Every year, hundreds of participants walk to become a part of the solution by raising awareness about the impact of domestic abuse on pets and their owners. Harbor House is the only domestic violence organization in Central Florida to have an on-site kennel on its campus – and one of a handful in Florida.
The kennel was an important addition to the shelter in 2012 because it removed a barrier for survivors. They no longer had to make the choice to leave their animal behind.
– 65% of survivors' delay leaving an abusive situation for fear their pets will be maimed or killed
– 88% of pets living in domestic violence homes are either abused or killed
– 71% of pet-owning women entering a safe haven reported their batterer had injured, killed or threatened family pets for revenge or to psychologically control victims
The PAWS Walk raises the necessary funds to keep the kennel in operation; and in turn, keeping pets and their families safe. One hundred percent of the proceeds will go to fund veterinary and kennel services for survivors' pets staying in the short-term emergency housing at Harbor House.
Meet Ted Maines, owner of Ted Maines Interiors and philanthropist, and his miniature greyhound, Donatella, who are honorary co-chairs of the event for the sixth year in a row along with Kelly Cohen and Scott Lloyd with their Yorkshire terrier, Oliver.
In addition, there'll be pet vendors' on-hand and socially distanced for unique animal gifts and services and pet yoga.
PHOTOS FOR MEDIA USE: Past event photos, and the PAWS for Peace Walk and Harbor House logos can be accessed by clicking here. Photo credit: MacBeth Photography
ABOUT THE PAWS FOR PEACE KENNEL AT HARBOR HOUSE OF CENTRAL FLORIDA
Harbor House opened the 1,500 square-foot kennel in December 2012. It serves as one of seven on-site, free-standing domestic abuse kennels in the state of Florida and is one of the largest in the country.  Since it opened, the kennel has served as a safe haven for more than 300 dogs, cats, birds, turtles, guinea pig, and more.  It features an examination room, grooming area, 10 kennels for dogs and 10 for cats, as well as spaces for other pets, such as ferrets, birds, hamsters and other "pocket pets."
ABOUT HARBOR HOUSE OF CENTRAL FLORIDA:
Harbor House is Orange County's only state-certified domestic violence organization. It provides safe shelter, a 24-hour crisis hotline, counseling, legal advocacy and justice for thousands of domestic violence survivors and their children each year. Harbor House works to prevent and eliminate domestic abuse in Central Florida by providing critical life-saving services to survivors, implementing and advancing best practices, and educating and engaging the community in a united front. For more information, please visit www.harborhousefl.com.  Follow on social media through Facebook at Harbor House of Central Florida and Twitter and Instagram @HarborHouseFL (#PAWSOrlando).